It Still Shakes – But I Have Support
The following piece was authored by OCMI Senior Scheduler Caroyln Faría, a native of Puerto Rico and alumna of the University of Puerto Rico. Carolyn returned to Puerto Rico after a series of severe earthquakes struck the island to help support structural evaluation and recovery teams.
With so much happening in the world right now, the content I'm about to share seems years old, but its not. It happened just 4 months ago (and we've been quarantined for 2).
I will start with the pictures. Red means unsafe, Do Not Enter; Yellow/ Orange means Restricted Use; and Green means Inspected, Lawful Occupancy. These are pictures from the aftermath of the 6.4 magnitude Earthquake that hit Puerto Rico on January 7, 2020.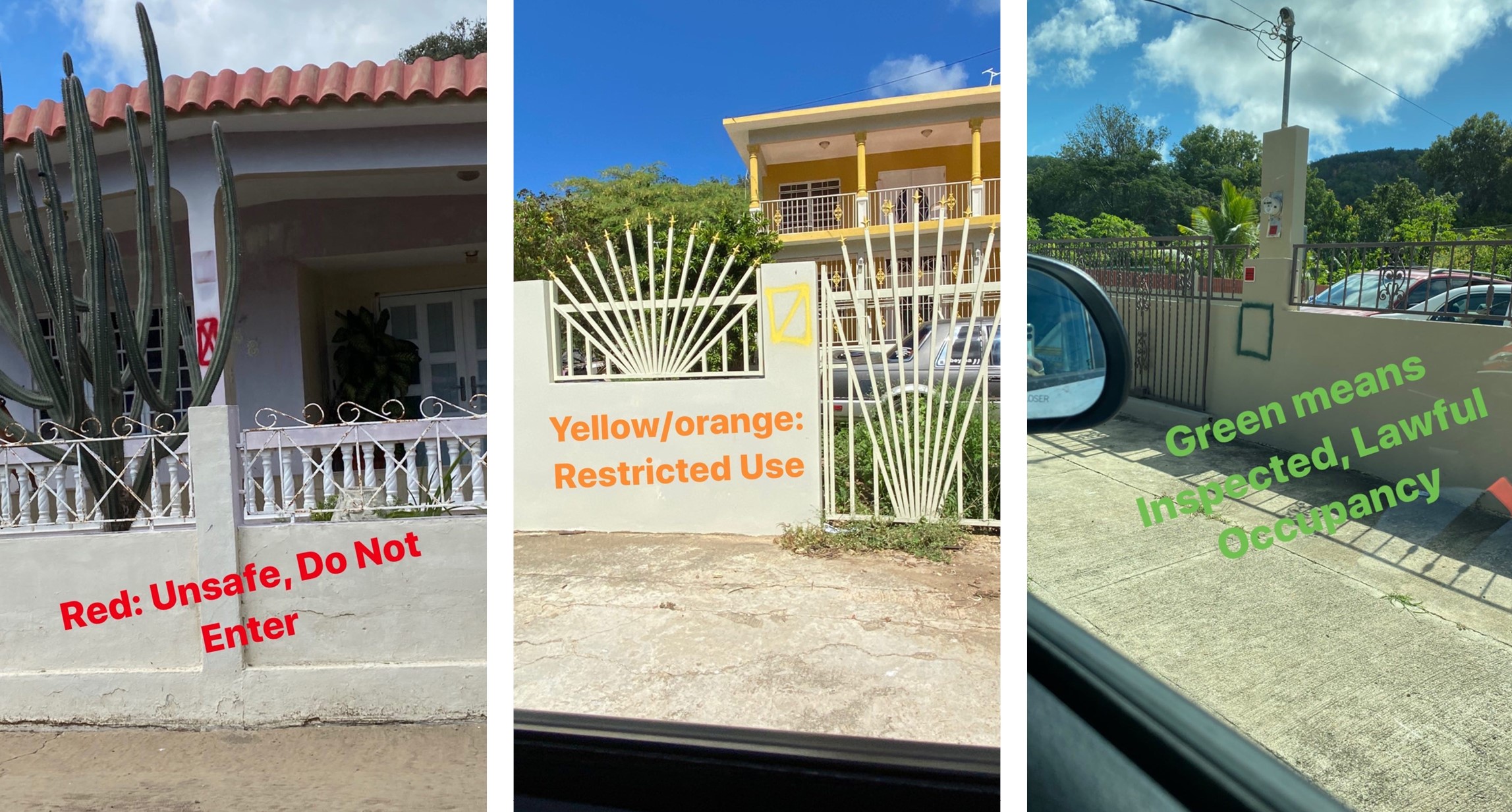 As the island approaches Hurricane Season 2020, thousands of people continue to live outside of their homes, whether it be because their homes have been marked RED, or from the pure fear of their GREEN-marked house not being able sustain further earthquakes. Retrofit construction of schools and houses has not been deemed essential according to the first two executive orders of the island. In my humble opinion, providing a home and a shelter for the residents of the island is essential. It is essential for the near-term and the long-term. The Housing Department of the Island lists many schools as Emergency Shelters. Emergency is Essential.
You see, I am from Puerto Rico. Where 3.4 million American citizens have not slept or lived the same way since a Category 5 hurricane (Maria, 2017) created the longest electrical blackout in US history. And then, a 6.4 magnitude earthquake hit the island on January 7, 2020. With an already debilitated infrastructure, this earthquake along with its thousands of significant aftershocks (it is still shaking the island to this day with a 5.5 magnitude aftershock records on May 2nd), caused island- wide power cuts, hundreds of families to became homeless, and millions on the island to sustain scars that no one can see, but each of them can feel.
This time versus 2017, I was able to contact family members since cell towers still worked. On these calls with family and friends, I joked that I used to be a Civil Engineer. It had been a long time since I had looked at drawings for that purpose. But my background came in handy to study and discuss practical guidance for quick visual examinations/ inspections post-earthquakes with fellow Civil Engineers still on the island.
We networked, we organized, and I joined forces with other ex-alumni from the University of Puerto Rico – Mayaguez Campus (UPRM) – Civil Engineering Department and travelled to Puerto Rico at the end of January 2020. Our team helped make preliminary evaluations in communities where local and federal authorities had not yet arrived to conduct surveys. I also moved supplies from the North Coast of the island to the South West where most of the quakes' epicenters were.
I did this with the full support of OCMI and my supervisors.When you get this type of email…
"Carolyn let us know how OCMI can support. Here's to a speedy recovery and hopefully subsiding aftershocks."
"We are all proud you are stepping up and supporting your community. We are your community here, so we get to support you!
Thanks, Tom"
…from management, you know you are working in the right place and with the right people in this stage of your life. When you feel and get that support, you proudly wear the PPE with OCMI on it.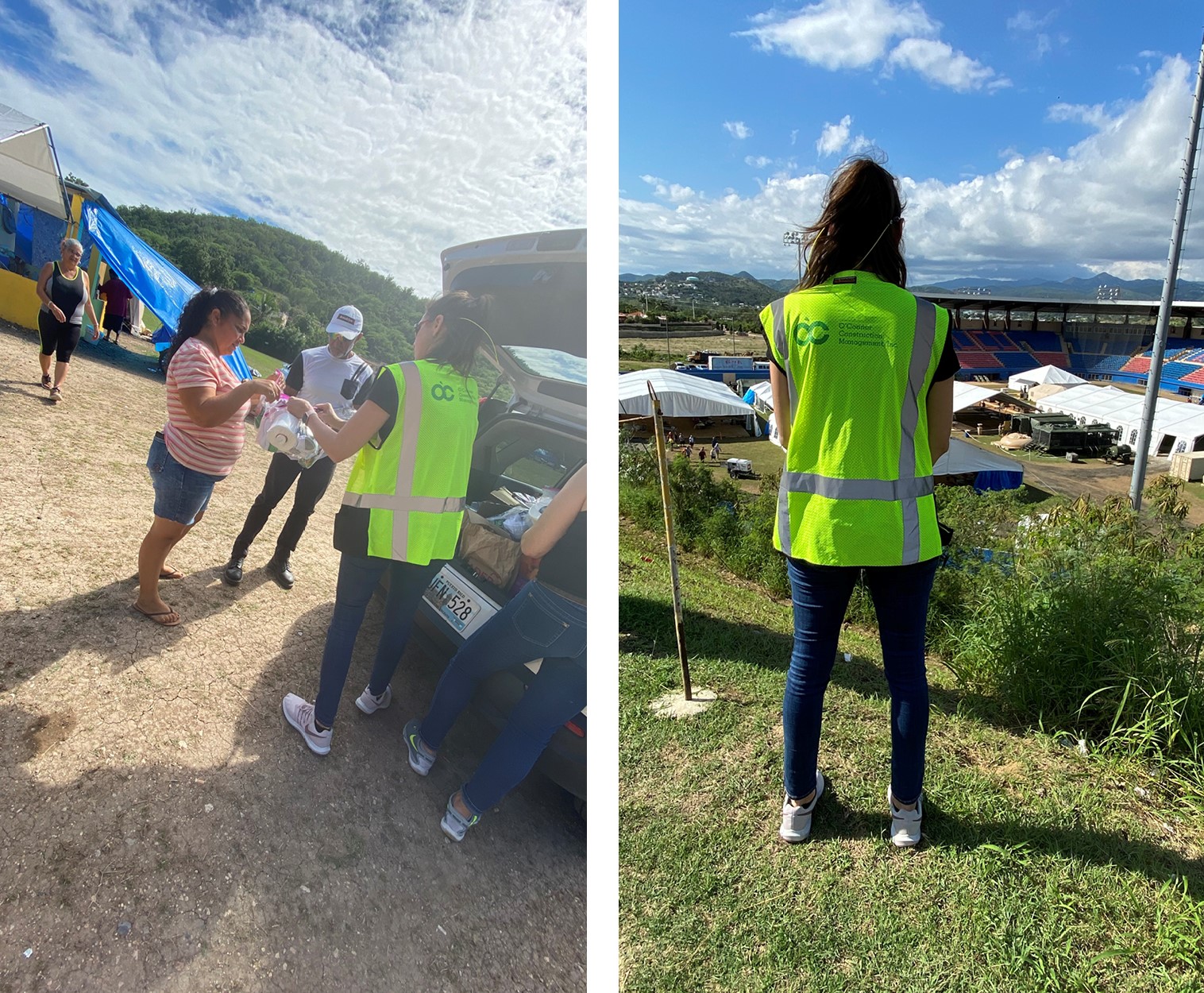 *Handing out medical and hygiene supplies in Guanica, PR      |    *Looking into one of Tent City's at Yauco, PR
It was hard and emotional to see the damage, to hear the stories, to plea with the homeowners to get out of the homes because the columns had failed. Full rows of streets were marked with Red, Yellow/ Orange, or Green Markings. In some areas only one house on that street had been marked Green- for Lawful Occupancy.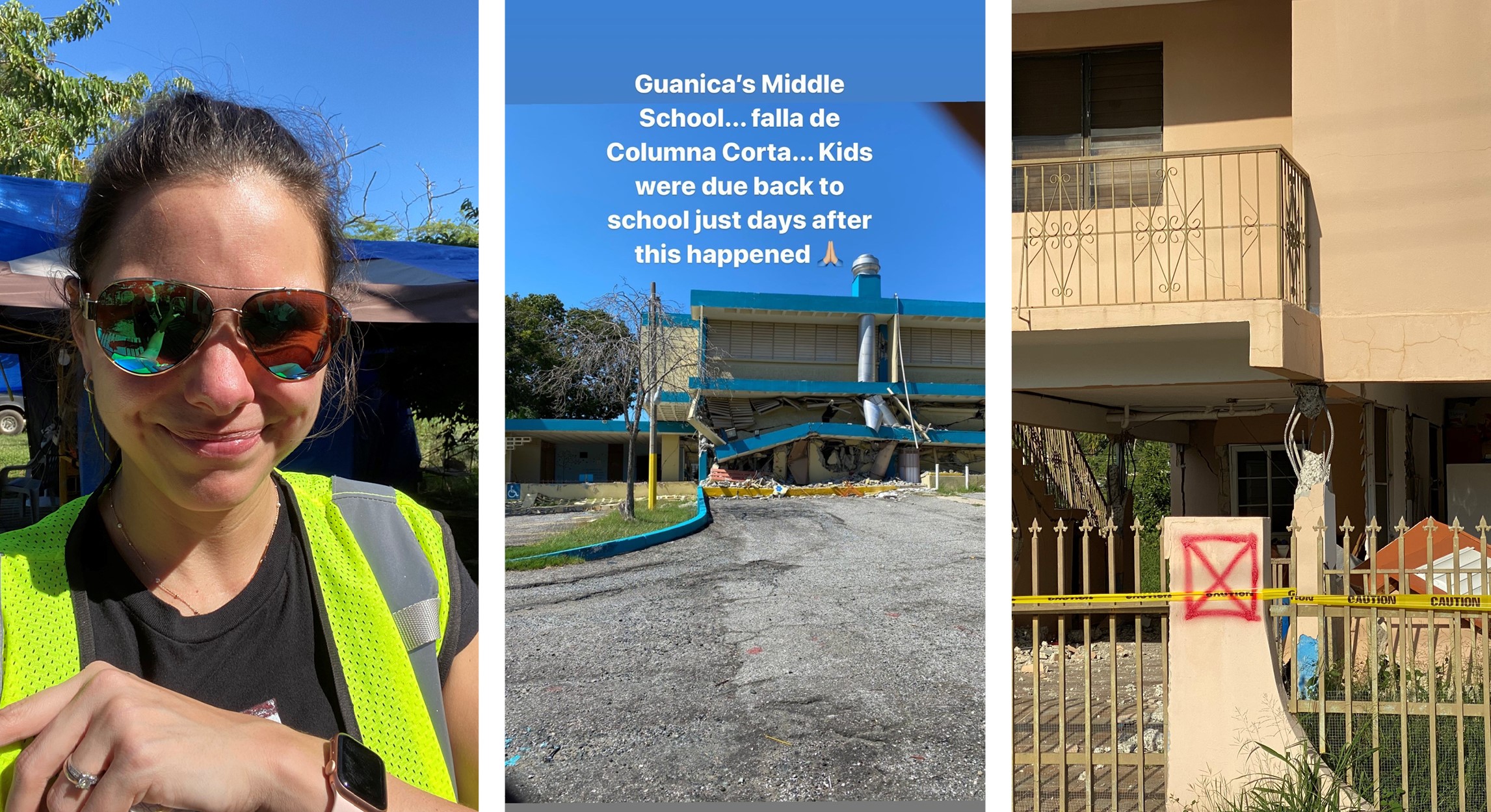 Even those marked Green or Yellow did not mean that their homes were structurally sound (only a in-depth structural analysis would do this), it just identifies the amount of visual damage or lack of at a point in time (when the inspection happened); like a Data Date in a schedule.
Because it continues to shake, inspections must continue to happen, and people continue to shake. People are still living outside – its just not a headline anymore.